Tri-Band Wi-Fi mesh system provides 100% Wi-Fi throughout your home.* Wi-Fi that sets you free.
-GUIDED SETUP
Fast and easy setup using Linksys App on iOS and Android devices.
-TRI-BAND TECHNOLOGY
Three bands that deliver the fastest combined Wi-Fi speeds to more devices.
-LINKSYS APP
Monitor and control your home Wi-Fi from anywhere.
-MODULAR
Each node adds 2,000 Sq Ft of Wi-Fi.** Just choose the number of nodes needed for your home.
-GIGABIT ETHERNET PORTS
Transfer data 10x faster than Fast Ethernet, ensuring high-speed connectivity for wired devices.
-WORKS WITH ALEXA
Custom Alexa commands.
-PARENTAL CONTROLS
Schedule kids' time online and manage their online activity from anywhere with the Linksys App.
-GUEST ACCESS
Create a guest network with a unique password for convenient and secure guest access.
-AUTO-FIX
No need to restart your Velop. With a click of a button, optimize the Wi-Fi channel.
-INSTANT ALERTS
Know the status of your home Wi-Fi at all times.
-3 YEAR WARRANTY & 24/7 CUSTOMER CARE
We are here to help. Contact Support anytime.
-FULL SPEED
100% Wi-Fi speed and coverage.*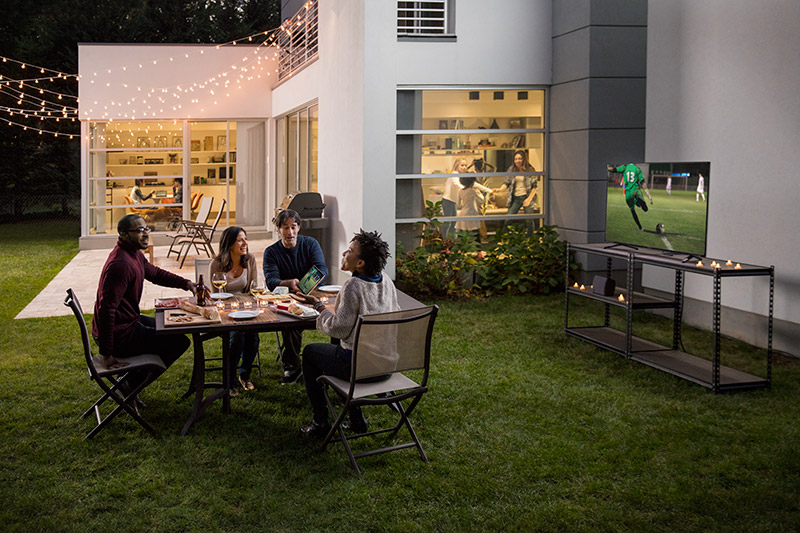 WI-FI THAT SETS YOU FREE
Linksys Velop is a high-performing modular Wi-Fi mesh system of nodes built to provide exceptional Wi-Fi coverage throughout your home. It sets up in minutes and delivers a flawless, ultra-fast, full-strength signal.
TRI-BAND MESH WI-FI SOLUTION FOR EXCEPTIONAL SPEEDS
Featuring Dynamic Tri-band technology, Velop outperforms the competition by providing faster speeds through its combination of three Wi-Fi radios, each tuned for optimal Wi-Fi load balancing to ensure peak Wi-Fi performance throughout the home. Whether you're streaming 4K content, gaming, or video chatting, Velop delivers exceptionally fast Wi-Fi to ensure optimal performance even when multiple Wi-Fi devices are connected.
MODULAR WI-FI SOLUTION THAT CONFIGURES TO YOUR NEEDS
Velop's modular design performs well within every home type, situation, and footprint. Each Velop node is a powerful Tri-Band connection point offering up to 2,000 square feet of coverage.**
Townhouse? Ranch style? Brick or steel? Simply add additional nodes to work around walls, problem areas, or multiple stories.

A SINGLE, SEAMLESS WI-FI EXPERIENCE
The Velop mesh system operates as a singular network that works to ensure a 100% seamless connection as you move throughout your home.*
BACKED BY 3-YEAR LIMITED WARRANTY AND TECH SUPPORT
†
Velop carries a premium level of support and is backed not only by a three-year warranty, but also by a three-year tech support guarantee with a dedicated phone support line.
SLEEK, COMPACT DESIGN
Velop is designed for high-performance Wi-Fi. Each Velop features a beautiful, sleek design that can be placed in open spaces, and away from obstructions to provide the best in-home Wi-Fi experience.
Compact in size, Velop is easy to place throughout the home and features an 88% smaller footprint than that of a traditional router. Its tower design supports vertical antenna placement, which enhances Wi-Fi dispersion throughout your home. Additionally, Velop features a cable management system designed to hide connected cables and keep your home clutter-free.
VELOP WORKS WITH AMAZON ALEXA
When paired with Amazon Alexa, Velop gives you access to a variety of convenient voice commands. For example, you can verbally turn Guest Wi-Fi on or off by stating, "Alexa, ask Linksys to turn on my guest Wi-Fi."
LINKSYS APP
CUSTOMIZE AND MANAGE YOUR HOME WI-FI ANYTIME, ANYWHERE
With the Linksys App, you can closely monitor and manage your home Wi-Fi remotely using a smartphone or tablet.
Parental Controls:

 Ensure a safe Internet experience for your kids--even when you're away from home. Reduce online distractions during homework, family or dinnertime. Restrict access to inappropriate or distracting content, control usage, and block specific devices from accessing the Internet.

Guest Access:

 Generate a separate, password-protected Wi-Fi network for up to 50 guests and easily share the password via text.

Device Prioritization: 

Prioritize devices that need the most speed.

Auto-Fix: 

Automatically select the best channel for your device and eliminate congestion with the push of a button.

Speed Test: 

Easily test and monitor your Internet connection's speed to make sure you're getting full speed from your provider.
*Based on the maximum speed that data (Phy rate) can move across a wireless link while alternating between the two 5GHz radios in each node. Each node has three Wi-Fi radios – one 2.4Ghz Wi-Fi radio and two 5 GHz Wi-Fi radios. Each 5 Ghz radio has throughput of 867 Mbps. Nodes will alternate between the two 5 GHz radios for each separate connection, providing 100% seamless Wi-Fi to your network. Specifications are subject to change without notice. An active, customer purchased Internet Service Provider broadband account is required for connection of this product and other connected devices to the Internet. Some devices may require additional wireless adapters or an Ethernet cable to connect.
**Each node in the wireless system provides a range of up to 2,000 square feet. Range can vary with the number and placement of nodes in the system. Range specifications are based on performance test results under normal use case conditions. Actual ranges will vary depending on wireless obstructions, operating environments and building material. Wireless coverage claims are used only as reference and are not guaranteed, as each wireless network is unique. 
†For full warranty and support information, please visit the product support page.
‡Maximum Performance derived from IEEE Standard 802.11 specifications. Actual performance may vary, including lower wireless network capacity, data throughput rate, speed, range and coverage. Performance depends upon many factors, conditions and variables, including building materials and construction, volume of network traffic, mix of wireless products used, interference and other adverse conditions. In order to achieve the best performance, this product must be used with compatible AC2200 wireless devices. The standard transmission rates for each node—867 Mbps (for each 5 GHz radio), 400 Mbps (for 2.4 GHz)—are the physical data rates. Actual data throughput will be lower and may depend on the mix of wireless products used and external factors.
PCMag Editor's Choice awarded to Linksys Velop on January 3, 2017. A trademark of Ziff Davis, Inc. Used under license. Reprinted from www.pcmag.com with permission. © 2017 Ziff Davis, Inc. All Rights Reserved.